FILM: The Manzanar Fishing Club
Nikkei Centre
6688 Southoaks Crescent
Burnaby, British Columbia, V5E 4M7
Canada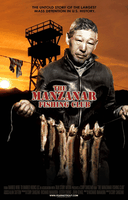 Admisson: $5, $3 for members
A feature-length documentary (directed by Cory Shiozaki) that chronicles the World War II internment of Japanese Americans from a unique perspective: through the eyes of those who defied the armed guards, barbed wire and searchlights to fish for trout in the surrounding waters of the Eastern Sierra. By emphasizing the evacuees' personal stories the film shows how a courageous few were able to take back moments of dignity and freedom through the simple act of fishing.
http://centre.nikkeiplace.org/film-the-manzanar-fishing-club/

NNMCC . Last modified Nov 07, 2012 9:47 a.m.
---