Taiko 101 workshop
Portland Taiko studio
3230 NE Columbia Blvd
Portland, Oregon, 97211
United States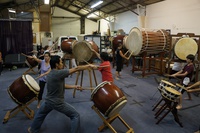 Taiko 101 Workshop
Thursday, October 11th
7:00 p – 9:30 p / $40
No experience necessary!
Taiko 101 Workshop is an excellent entryway to learn about the art and history of taiko. Everyone will experience first-hand the energy and power of the drums through playing. Basic background history on the art form of taiko and Portland Taiko will be shared.

Ptowntaiko . Last modified Oct 09, 2012 4:30 p.m.
---