Nikkei Family History workshop
Nikkei Centre
6688 Southoaks Crescent
Burnaby, British Columbia, V5E 4M7
Canada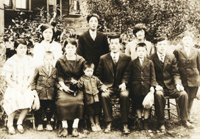 Ted Ohashi, an educator and co-author of "Tasaka " and Linda Kawamoto Reid, Assistant Archivist at the Museum, will present a workshop answering the Frequently Asked Questions (FAQ) about writing and researching Nikkei family history. Workshop will be limited to 25 participants.
Linda Kawamoto Reid, Family History Research FAQ:
Why are my relatives shy about talking about family history?
Where does one find information about immigrant ancestors to Canada?
How does one go about getting information about the property that was confiscated during WWII?
Are there sources of information specifically for Nikkei history?
What is a Koseki and how can I get one?
Admission: $10
Information & registration (required): 604.777.7000 ext.109 | jcnm[@]nikkeiplace.org
Register online

NNMCC . Last modified Aug 25, 2012 4:13 p.m.
---