Tatsu Aoki's TOYOAKIMOTO CD RELEASE/PRESS PARTY
Cafe Sushi
1342 N. Wells St
Chicago, Illinois
United States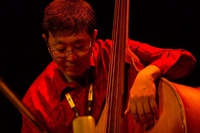 A Chicago CD Release/Press Party presented by ENERI Communications is scheduled for Thursday, August 9, 2012 at Café Sushi, 1342 North Wells Street, Chicago, Illinois from 12 p.m. – 1:30 p.m. The event will be hosted by radio personality Rick O'Dell. Media wishing to attend should request credentials by e-mail to ENERI
Communications at rsvp@enericom.net by August 3, 2012. The reception is being underwritten in part by Philip Wong, Esq. A limited number of tickets will be available to fans at the cost of $20 each, which includes the CD. For availability, please RSVP to rsvp@enericom.net by August 3, 2012.

Tatsu Aoki will appear and perform at the Chicago CD Release/Press Party, along with Amy Homma, Rika Lin and Lori Ashaikawa from Toyoaki Shamisen Ensemble.
In special appearance, Grand Master Shunojo Fujima from Fujima Ryu of Chicago, will take care of Kimono dressing for the Ensemble ladies that day, who will look spectacular.
On taiko will be Noriko Sugiyama, Jun Tnakanarita and Kiyomi Negi Tran from Tsukasa Taiko.

intrepidmouse . Last modified Jul 16, 2012 8:35 p.m.
---