Free Movie Screening: Fukushima Hula Girls
Japanese Cultural and Community Center of Washington
1414 S. Weller Street
Seattle, Washington, 98144
United States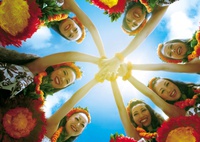 The Japanese Cultural & Community Center of Washington is very pleased to present a free Movie Screening of Fukushima Hula Girls starting at 7pm (~100mins) on Friday, July 20, 2012 right at the Japanese Cultural & Community Center: 1414 S. Weller St. Seattle, WA 98144 (Near S. Jackson St. & Rainier Ave. S.). Please come and join us!
Fukushima Hula Girls is a documentary after the earthquake on March 11, 2011, in Japan. The main attacked "Iwaki City" has the beautiful resort hotel and facilities called "Spa Resort Hawaiians" which is located close to Fukushima Nuclear Power Plants. After the disaster, everyone, including hula dancers, called "Hula Girls" at Hawaiians, has tried to overcome and re-build the resort for a first step of reconstruction Fukushima. The story tells us how they faced to everyday living with the energy issues and how they struggled until re-opening of "Spa Resort Hawaiians".
In Japanese with English subtitles.
Free admission.
For more information, please visit http://www.jcccw.org/events-programs/movie-screening-fukushima-hula-girls-2012.html.

llan . Last modified Jun 26, 2012 6:07 a.m.
---