Japacamp 2012
Nikkei National Museum & Cultural Centre
6688 Southoaks Crescent, Burnaby, BC, V5E 4M7
Burnaby, British Columbia, V5E 4M7
Canada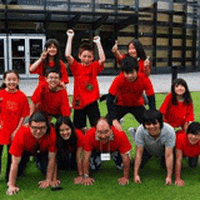 Japacamp 2012 (July & August)
Sign up your favourite 9- to 12-year-old for an amazing week of Japanese Canadian fun at the beautiful Nikkei Centre in Burnaby. Every day will feature different Japanese cultural activities such as calligraphy, karate and origami, and campers will also explore aspects of Japanese Canadian history. The program will run in English. Programs are offered July 9-13 & August 13-17, 2012.
Click here for more information and how to register for JAPACAMP 2012
contact the Education Coordinator, email learning@nikkeiplace.org or phone 604-777-7000 ext 110.

NNMCC . Last modified Jun 05, 2012 11:39 a.m.
---