Little Tokyo Music Festival
Japanese American Cultural and Community Center (JACCC) Plaza
244 S. San Pedro Street
Los Angeles, California, 90012
United States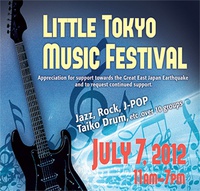 Little Tokyo Music Festival
Appreciation for support towards the Great East Japan Earthquake and to request continued support.
Jazz, Rock, J-POP, Taiko Drum, etc. over 10 groups
Featuring
* RANDOM NINJAS, YERAK
* Japan America Chamber Ensemble
* J-POP Bank, R&B and more!
Presented by: Little Tokyo Business Association
Supported by: JACCC, JCCSC, JAS, LTSC, Asian Pacific Islander
Produced by: Little Tokyo Music Festival Committee
Admission is FREE.
For more information call (213) 680-0011.
JACCC Plaza
http://www.jaccc.org/events.php

llan . Last modified Jun 22, 2012 7:20 a.m.
---