32nd JACCC Anniversary Celebration and Awards Dinner: "Honoring Women of Distinction"
The Beverly Hilton
9876 Wilshire Boulevard
Beverly Hills, California, 90210
United States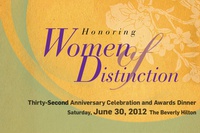 The JACCC is pleased to announce that the Thirty-Second Anniversary Celebration and Awards Dinner will be held on Saturday, June 30, 2012, at The Beverly Hilton in Beverly Hills. The theme of the event is Honoring Women of Distinction, and we invite you to join us in celebrating the accomplishments of three outstanding individuals, Sakaye Aratani, Mucci Taylor and Irene Hirano Inouye who have enriched the vibrancy and cultural life of our community through their leadership, and their civic and philanthropic work.
We welcome and urge your participation at this year's Anniversary Celebration to help us put forward a well-deserved tribute to each of these distinguished women. Your generous support will also serve to generate innovative new programs to bring out the art, culture, and community enthusiasts in our expanding community.
The JACCC seeks to be at the forefront of presenting creative new works, supporting new artists and providing innovative cross-cultural programs that educate younger generations about the rich Japanese American heritage and culture. We see a vision full of vibrant new opportunities to bridge LA's diverse population by connecting arts and culture in a viable, sustainable way, especially when you join us with your participation and ongoing support.
For information and reservations please contact Jessie Kikuchi at jkikuchi@jaccc.org or (213) 628-2725.
For more information, please visit http://www.jaccc.org/dinner2012.php.

llan . Last modified Jun 26, 2012 7:57 p.m.
---