Wakamatsu Colony Festival
Wakamatsu Tea & Silk Colony Farm
941 Cold Springs Road
Placerville, California, 95667
United States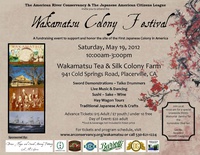 Join us in the California Gold Country for the annual Wakamatsu Colony Farm . A fundraising event to honor and support the site of the first Japanese colony in America. The day will include: Sword Demonstrations, Taiko Drummers, Japanese Folk Music & Dancing, Sushi – Sake – Wine, Hay Wagon Tours, and Traditional Japanese Arts & Crafts.
Advance Tickets: $15 adult/$7 youth/under 10 free ($20 day of event)
For tickets and information visit: www.arconservancy.org/wakamatsufestival
Proceeds to support development of the Wakamatsu Tea & Silk Colony Farm

ARC . Last modified Apr 03, 2012 10:57 a.m.
---