Gajin Fujita: Ukiyo-e in Contemporary Painting
Pacific Asia Museum
46 North Los Robles Ave
Pasadena, California, 91101
United States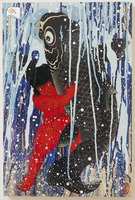 Gajin Fujita (born 1972) is a Japanese American artist whose work combines elements of traditional Japanese ukiyo-e art with contemporary American street art and Pop art, among other influences.
A native of Los Angeles, Fujita has been steadily gaining international recognition since his first solo gallery exhibition a decade ago. The exhibition at Pacific Asia Museum will be his first solo museum exhibition on the west coast, and is timed to coincide with the exhibition Masterpieces of Tsukioka Yoshitoshi, opening May 18, since Fujita's work shares many interesting parallels with the work of the earlier master concerning compositional approaches, the struggle of man in nature, attention to finished surfaces of the work, and a featuring of Japanese folklore and tales of valor and the supernatural.
Wenesday - Sunday: 10am - 6pm
Closed Monday & Tuesday
Admission
$9 Adults, $7 Students and Seniors
Free for children 11 and under
Free admission every 4th Friday of the month
For more information, contact 626-449-2742 or visit the website

vkm . Last modified May 07, 2012 10:31 a.m.
---