Tad Nakamura's Jake Shimabukuro Documentary
Gene Siskel Film Center
164 N. State St.
Chicago, Illinois
United States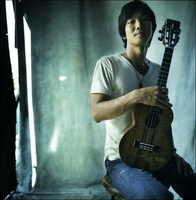 Jake Shimabukuro Documentary
2012, Tad Nakamura, USA, 56 min.
The Center for Asian American Media (CAAM) presents this sneak peek at a behind-the-scenes profile of Hawaiian ukulele virtuoso Jake Shimabukuro. Startlingly young and breathtakingly unassuming, "the Hendrix of the ukulele" is equally at ease soloing with a symphony orchestra or entertaining a class of preschoolers. Director Nakamura captures pensive moments and triumphant performances in a film packed with numbers showing off the range of Shimabukuro's amazing repertoire, from classical and pop to jazz, blues, and avant-garde. DigiBeta video. (BS)
The film will be followed by a 15-minute live ukulele performance by local musicians.
http://www.faaim.org/

intrepidmouse . Last modified Apr 03, 2012 12:06 p.m.
---