JSA 2ND ANNUAL SPRING FESTIVAL: MATSURI
Ida Noyes Hall
1212 East 59th Stree
Chicago, Illinois
United States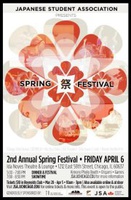 JSA 2ND ANNUAL SPRING FESTIVAL: MATSURI
COMING UP: Friday, April 6th, 2012
JSA's 2nd Annual Spring MATSURI or festival in Japanese, will be Friday, April 6, 2012 in Ida Noyes Hall. With the great success of last year's event, JSA aims again to recreate the festive feeling of Japanese Matsuri with festival games and booths as well as traditional and pop performances from Japanese culture. Tickets are $10, including the dinner, festival and show. Check out the full line up of festivities and performances below!
THE FESTIVITIES | 5:00 - 7:00 PM
Dinner: Sushi and Japanese traditional foods | 5:30 pm. Catered by Shinju Sushi.
Kimono Photo Booth: Dress up in traditional Japanese clothing and pose for a purchaseable photo keepsake | More info coming soon.
Origami Workshop & Janken Game Booth
THE SHOW | 7:00 - 8:30 PM
The Chicago Koto Group on traditional Japanese string instruments
The Ho Etsu Taiko Japanese drumming ensemble
Kendo and Judo Martial Arts demonstrations
JSA Yosakoi and Shin Dancing Troupes
We hope you'll come celebrate spring with us!
http://jsa.uchicago.edu/
For more informwation contact Shinya Watanabe at swatanabe@uchicago.edu
The JSA will be supporting Habitat for Humanity at the University of Chicago, and will donate $3 to their Japan Relief Trip during Summer 2012, in the Tohoku Region of Japan, affected by the earthquake of March 2011.
http://habitat.uchicago.edu/

intrepidmouse . Last modified Apr 02, 2012 11:02 p.m.
---