Jan Ken Pon! Family Games Day
Naional Nikkei Museum & Heritage Centre
6688 Southoaks Crescent
Burnaby, British Columbia, V5E 4M7
Canada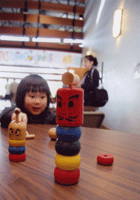 Start spring break with Japanese fun!
Experience over 20 traditional Japanese heritage games and toys at the 8th annual Jan Ken Pon! Family Games Day held at the National Nikkei Museum & Heritage Centre at 6688 Southoaks Crescent, Burnaby, on Saturday, March 17, 1-4pm.
Play with colourful tops and a Japanese style cup and ball, make your own sumo wrestlers and beanbags, and run around and burn off some energy! The highlight of the day is a rock-paper-scissors tournament with prizes. Old Japanese heritage toys will also be on display. The event is suitable for families with children aged 4 to 12. Children must be accompanied by an adult.
Tickets are $5 for children over 2 years old ($4 for advance registration before March 10th), free for accompanying adults. Tickets are available online at www.nikkeiplace.org , by phone 604.777.7000 or in person at the Nikkei Centre.

NNMCC . Last modified Jan 24, 2012 1:17 p.m.
---