JAPAN MAGIC TOWN
Marsee Auditorium, El Camino College
16007 Crenshaw Blvd.
Torrance, California, 90506
United States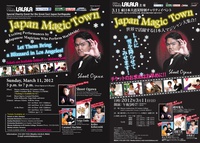 On Sunday, March 11th, we will be producing an event "Japan Magic Town" at El Camino College in Torrance. March 11, 2012 will be exactly one year from the unprecedented disaster, the Great East Japan Earthquake. This event is not only for the audience to enjoy the show, but also a charity event, donating the partial proceeds to the children who have lost their parents by the disaster through Ashinaga Scholarship Society.
Japan Magic Town was planned with our wish to continue supporting Japan in any way we can and never forget, although we live in Los Angles, far from Japan.
This event is lined up with famous magicians from Japan including Mr. Shoot Ogawa, a world's leading magician who is also a four-time winner of the Magician of the Year by the famous Magic Castle in Hollywood.
Japan Magic Town is a fun event for people of all ages.

【General Info of the Event】
■Title:Japan Magic Town
Exciting Performances by Japanese Magicians Who perform Worldwide!
Let Them Bring a Blizzard in Los Angles!
■Performers:
・Shoot Ogawa(Four-time winner of the Magician of the Year by Magic Castle in Hollywood)
・Keiko Kobayashi・Caramel Machine・Taiga Endo
■Date: Sunday, March 11, 5pm to 7pm (Door opens at 4:30pm)
■Place:Marsee Auditorium El Camino College Torrance
■Tickets:
Advanced At the Door
$100 for Arena
$25 1st floor ($15 Children) $30 1st floor ($20 Children)
$20 2nd floor ($10 Children) $25 2nd floor ($15 Children)
Online ticket available at: http://bit.ly/x987Gc
Or call Box Office at: 310-329-5345

lalalaevent . Last modified Feb 17, 2012 9:00 p.m.
---