Introduction to Soba Making with Sonoko Sakai
Japanese American National Museum
100 N Central Ave
Los Angeles, California, 90012
United States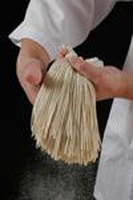 Make your own soba entirely by hand, using fresh, stone-milled artisanal soba flour from Japan and authentic soba tools. The soba will be served in the classic way: cold with fresh soy-based dipping sauce, toppings, and spices.
Wear closed-toe shoes with soft soles. Bring an apron and a tupperware container to take home your soba. $75 members; $85 non-members. Includes admission and supplies. RSVP early, 12 participants max.
Reservations recommended to rsvp@janm.org or 213.625.0414 at least 48 hours prior.
For more information about Sonoko Sakai and her other workshops, visit www.cooktellsastory.com/.

JANM . Last modified Feb 16, 2012 9:09 a.m.
---