EXHIBITION: Folding Paper: The Infinite Possibilities of Origami
Japanese American National Museum
100 N Central Ave
Los Angeles, California, 90012
United States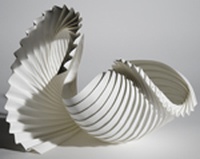 Folding Paper: The Infinite Possibilities of Origami will be the first major exhibition to explore the international phenomenon of origami as a contemporary visual art form. Featuring over 100 works by more than 40 artists from 13 countries, the exhibition will illustrate the influence of origami on technology, math, science, art, design, and the global peace movement.
The exhibition is curated by Meher McArthur, former curator of East Asian Art at Pacific Asia Museum, Pasadena, California, and co-developed by International Art and Artists and the Japanese American National Museum.
Image: Richard Sweeney, 03M (Partial Shell), 2010. Watercolor paper, wet folded. Photo © Richard Sweeney.

JANM . Last modified Jul 29, 2012 2:03 a.m.
---