Speakers Series: Greg Robinson LEST WE FORGET: THE INTRIGUING HISTORY OF JAPANESE CANADIANS IN QUEBEC
Naional Nikkei Museum & Heritage Centre, 2F Room 210
6688 Southoaks Crescent
Burnaby, British Columbia, V5E 4M7
Canada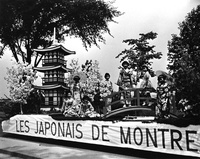 Admission by donation

Float at the St. Jean de Baptiste Parade; Montreal, QC
One important long-term result of the wartime removal of Japanese Canadians was the establishment of a unique Japanese community in Quebec. Beginning in 1942, Japanese Canadians forced from the West Coast began to leave the West Coast or the camps and move East. The migrants, especially Nisei, found a warm welcome in Montreal, where they interacted closely with both English and French Canadians. The community organized to build lasting institutions, including churches, stores, and a newspaper. While some Japanese Canadians later returned West, many preferred to remain in Montreal, where they were able to become absorbed into the wider society. Like the larger city, Montreal's Japanese population remains notable for religious, generational, and linguistic diversity.
Greg Robinson is Associate Professor of History at l Universite du Quebec A Montreal and the author of A Tragedy of Democracy: Japanese Confinement in North America (Columbia).
Recent publications by Greg Robinson will be available at the event.


NNMCC . Last modified Feb 26, 2012 10:11 a.m.
---