Valentine Swing Dance
Star Theater
13 NW 6th Avenue
Portland, Oregon
United States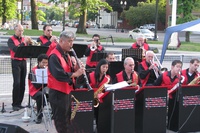 Saturday, February 11, 2012 from 7:00 PM - 10:00 PM
A Benefit for the Oregon Nikkei Endowment.
One week before the 70th anniversary of Executive Order 9066, this dance commemorates the joy of Nikkei life before internment while also encouraging the intergenerational passing of traditions.
This event will begin at 7:00 p.m. with a half an hour lesson in some basic swing dance moves. At 7:30, the Minidoka Swing Band will take the stage and lead attendees in some of the best swing music until 10:00, just in time to give concertgoers a chance to refuel in the many restaurants and bars in Old Town and the nearby Pearl District.
Purchace advance tickets, $15, at the Oregon Nikkei Legacy Center or by calling 503-224-1458. Tickets are $20 at the door.

lcbaxter . Last modified Feb 08, 2012 11:46 a.m.
---