Welcome Reception in honor of the Honorable Jun Niimi, Consul General of Japan in Los Angeles
Kyoto Grand Hotel & Gardens
120 S. Los Angeles Street
Los Angeles, California, 90012
United States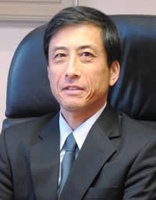 6:00pm Registration / 7:00pm Program
Master of Ceremonies: Frank Buckley, Co-Anchor, KTLA Morning News
The Honorable Jun Niimi arrived in Los Angeles and assumed the post as the new Consul General on October 8th. His previous international assignments were to England, Kenya, France, Iran (1995), Minister at the Embassy of Japan in Russia (2003), and Minister (Deputy Chief of Mission) and Permanent Representative to ESCAP at the Embassy of Japan in Thailand (2006). At the Ministry of Foreign Affairs, he has served as Director of the Overseas Public Relations Division (1998-2000), Director of the Consular Policy Division (2000-2001), Director of the Overseas Establishments Division (2001-2003), Assistant Vice-Minister (2010), and served as the Deputy Director-General, Trade Policy Bureau at the Ministry of Economy, Trade and Industry (2008). He graduated from Tokyo University, Faculty of Law in 1979, and the same year joined the Ministry of Foreign Affairs.
Please join us for this special community reception to meet and welcome
Consul General Jun Niimi. Please RSVP with payment information by Tuesday, November 15th

Admission $35 per person

Phone (213) 627-6217, ext. 205 Fax (213) 627-1353 Online www.jas-socal.org

Download the flyer >>

Japan America Society of Southern California
Japan Business Association of Southern California
Japanese Chamber of Commerce of Southern California
Japanese Prefectural Association of Southern California
United States Japan Council

vkm . Last modified Nov 01, 2011 3:08 p.m.
---