PLAY: The Language Archive at East West Players
East West Players
120 Judge John Aiso St
Los Angeles, California, 90012
United States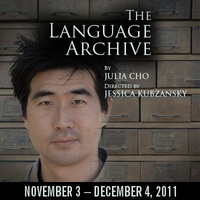 THE LANGUAGE ARCHIVE
By Julia Cho
Directed by Jessica Kubzansky
Meet George, a linguist, a master of languages, who cannot express his love for his wife--and ends up losing her. Follow this whimsical and heartbreaking look at love and language that asks, "How do we save what is dying?"
Cast: Jennifer Chang, Kimiko Gelman, Nelson Mashita, Jeanne Sakata, and Ryun Yu.
Understudies: Lovelle Liquigan, Sharline Liu, and Peter James Smith.
Set Design: Francois-Pierre Couture
Lighting Design: Jeremy Pivnick
Costume Design: E.B. Brooks
Original Music & Sound Design: Bruno Louchouarn
Property Master: Michael O'Hara
Stage Manager: Katherine E. Haan
For showtimes and ticket prices, visit the East West Players' Web site at http://www.eastwestplayers.org/

Kagemusha . Last modified Nov 22, 2011 4:21 p.m.
---