Summer Classic Anime Film Series (Part 4)
Japanese American National Museum
100 N Central Ave
Los Angeles, California, 90012
United States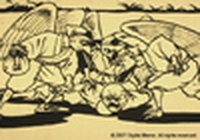 Pay-What-You-Can!
For four exciting nights, the Tateuchi Democracy Forum will screen vintage anime titles from the 1920s and 1930s, the Golden Age of Japanese silent film.
Please note: This screening is part of an on-going four part series. However, each program stands on its own and does not require you have seen the previous film(s).
The anime classics we will be screening:
Taro's Monster Hunt (1936)
Taro's Early Training Days (1936)
Mabo's Big Race (1936)
Mabo as Tokichiro Kinoshita (1938)
Swim, Monkey, Swim! (1939
Baby Kangaroo's Birthday Surprise (1940)
Sankichi the Monkey: The Bear Dodger (1948)
Gulliver's Great Activities (1950)
The Animal Village in Trouble ((Unknown)
Dankichi on a Tropical Island (Unknown)
2nd Lieutenant Norakuro Sunday Magic (Unknown)
The Underwater Tyrant (Unknown)
The Duckling Saves the Day (Unknown)
The rest of the series will screen:
Part 1: Thursday, July 21
Part 2: Thursday, July 28
Part 3: Thursday, August 4

JANM . Last modified Jun 07, 2011 6:36 p.m.
---