Summer Classic Anime Film Series (Part 1)
Japanese American National Museum
100 N Central Ave
Los Angeles, California, 90012
United States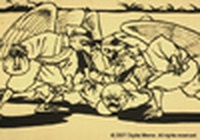 Pay-What-You-Can!
For four exciting nights, the Tateuchi Democracy Forum will screen vintage anime titles from the 1920s and 1930s, the Golden Age of Japanese silent film.
The anime classics we will be screening:
Mighty Taro's Reckless Training (1928)
Momotaro the Undefeated (1928)
Benshi narration: Midori Sawato
The Tiny One Makes It Big (1929)
The Black Cat (1929)
The Stolen Lump (1929)
Taro's Toy Train (1929)
The Bat (1930)
The Monkey Sword Masamune (1930)
Harvest Festival (1930)
Taro Urashima (1931)
Our Baseball Match (1931)
The National Anthem Kimigayo (1931)
The rest of the series will screen:
Part 2: Thursday, July 28
Part 3: Thursday, August 4
Part 4: Thursday, August 25

JANM . Last modified Jun 07, 2011 6:25 p.m.
---