Little Tokyo Design Week: Future City
JACCC Campus
44 S. San Pedro Street
Los Angeles , California, 90012
United States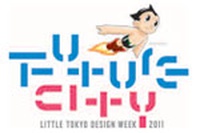 Little Tokyo Design Week: Future City (LTDW) celebrates the power of cutting edge design and technology now emerging from Japan and its intersection, with current trends materializing in Los Angeles. Design's ability to move us towards a more sustainable and creative urban lifestyle is at the heart of this five-day festival, which will include exhibitions, symposiums, film screenings, and designer installations.
For more information and the complete event listing visit www.ltdesignweek.com
JACCC Campus
Admission Free

mkochiyama . Last modified Jun 22, 2011 12:52 p.m.
---