COLD TOFU Presents The Hiroshi Show!
Japanese American National Museum
100 N Central Ave
Los Angeles, California, 90012
United States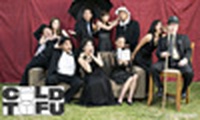 COLD TOFU returns to the Tateuchi Democracy Forum with The Hiroshi Show. Starting with one suggestion from the audience, COLD TOFU creates a long form improv show full of comedy and hijinks based on the personal stories of its special guest hosts. Tonight's special guest host is actor and museum volunteer Rodney Kageyama.
Admission is $10 and a portion of the proceeds from both evenings will go to the National Museum. For reservations, please call 213-739-4142 or email coldtofu@hotmail.com.
COLD TOFU is a non-profit arts organization and is dedicated to promoting diverse images of Asian Pacific Americans through comedy and to developing multiethnic talent through education and performance.
For more information about COLD TOFU, visit www.coldtofu.com.

JANM . Last modified May 27, 2011 11:38 p.m.
---