The California Hotel: Hawai'i's Home Away from Home
Japanese American National Museum
100 N Central Ave
Los Angeles, California, 90012
United States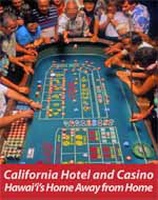 This traveling display tells the story of one Las Vegas casino's special connection to the people of Hawai'i and the unique culture that evolved there through rare photographs, objects, and video.
Developed by the Japanese Cultural Center of Hawai'i, the exhibition was sponsored by Hawai'i Air Cargo, Kyo-ya Hotels and Resorts, Nippon Golden Network, and Vacations Hawaii.

JANM . Last modified May 17, 2011 1:31 p.m.
---