2011 Tottori Kenjinkai New Years Party
Eden Japanese Community Center
701 Elgin Street
San Lorenzo, California, 94580
United States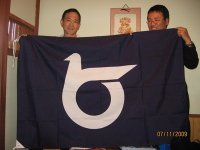 The Sowan Tottori Kenjinkai (California San Francisco-Bay Area Chapter) invites all members to attend our annual New Year's Party. Please RSVP before February 1, 2011. Good food and entertainment.
Dinner is $5.00 per adult, kids eat free. Yearly membership dues $10.00
Not a member? Interested? No problem, contact us anyway.
Contact: Joan @ 408-736-3350 or 510-710-7443 or email: ckawabata@sbcglobal.net

kojikiarrow . Last modified Jan 08, 2011 5:08 p.m.
---