Ed and Marina Ozaki at the Schubertiade Chicago 2011
Fine Arts Building
410 S Michigan Ave
Chicago, Illinois
United States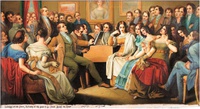 A marathon festival of Franz Schubert's music on January 29th, 2011
presented by the pianoforte foundation
The PianoForte Foundation is proud to present its 7th annual Schubertiade Chicago, a FREE marathon festival celebrating the music of Franz Schubert.
On January 29th, 2011 the music will begin at 2:00pm and will run until 9:00pm with over 25 Chicago artists performing. The historic Fine Arts Building is the perfect environment to recreate the atmosphere of Schubert's legendary music soirées, where artists and music lovers can commune together.
It has been an honored tradition in Europe to celebrate the music of Franz Schubert on the anniversary of his birth, January 31, 1797. The PianoForte Foundation has brought this tradition to Chicago for the past 6 years, with every celebration drawing larger audiences. This year's event will call forth a marathon of music making from a variety of chamber ensembles and soloists in three simultaneous performance halls in the Fine Arts Building, including the intimate PianoForte Salon in Studio 825, the gorgeous home of Elizabeth Stein Company in Studio 801 overlooking Grant Park and Lake Michigan, and the legendary Curtiss Hall on the 10th floor, with its stunning view of Buckingham Fountain.
Performance by Ed and Marina Ozaki 2:30pm.

intrepidmouse . Last modified Jan 25, 2011 10:54 a.m.
---