Zen Garage concept display opening
Japanese American National Museum
100 N Central Ave
Los Angeles, California, 90012
United States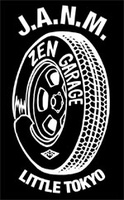 Attachments
FREE!
Join us for the opening of Zen Garage, a concept display developed in collaboration with Eric Nakamura of Giant Robot.
Part of the Salon Pop series, Zen Garage features three innovative creations illustrating various facets of contemporary aesthetics, lifestyles, and cultural backgrounds.
The Super Famicom Car, a retro video game-inspired converted Scion xB, utilizes projectors from both the front and rear to play video games. David Choe returns with a custom monster Scion xB. Shinya Kimura's Spike is not only a motorcycle…it's a work of art.

JANM . Last modified Dec 23, 2010 10:27 a.m.
---