Speaker Series: 1910 Japanese Fatalities in Canada's Worst Avalanche
Japanese Canadian National Museum
6688 Southoaks Crescent
Burnaby, British Columbia, V5E 4M7
Canada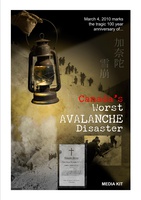 Speaker Series:
1910 Japanese Fatalities in Canada's Worst Avalanche
by Tomoaki Fujimura
Canadian Avalanche Association Professional Member, Revelstoke Ski Patrol
December 16, 7pm
Japanese Canadian National Museum
6688 Southoaks Crescent, Burnaby, BC V5E 4M7
604.777.7000
Free admission
The Last Spike was struck in British Columbia on November 7, 1885, but how much do we know about the men and women from different nations who sacrificed their lives to maintain the Canadian corridor? March 4, 1910, marked one of the worst avalanches in Canadian history. On this evening at Rogers Pass, railway workers were digging avalanche debris from Mt. Cheops with shovels and locomotives. Around 11:30 pm, another avalanche came down from the opposite mountain killing 58 men. The fatality included 32 Japanese. Fujimura will share recent research about the Japanese involvement and information about the families of the victims.
Donations will be accepted at the event towards the Canadian Avalanche Center, Japanese Avalanche organizations, ski patrol in Whistler & Blackcomb, and Revelstoke Mountain Resort.

NNMCC . Last modified Nov 13, 2010 2:58 p.m.
---