JACL 2010 ANNUAL MEETING featuring TRANSCENDING: The Wat Misaka Story
Midwest Buddhist Temple
Chicago, Illinois, 60614
United States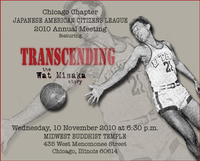 The JACL 2010 ANNUAL MEETING featuring the film TRANSCENDING: The Wat Misaka Story
Wednesday, November 10, 2010 at 6:30 PM
Midwest Buddhist Temple
450 W. Menomonee St
Chicago, IL 60614
TRANSCENDING - THE WAT MISAKA STORY is a documentary film about Wat Misaka, the first person of color to be drafted into what is now the NBA. A Nisei who was born, raised and is still living in Utah, he was the very first draft pick of the New York Knicks, in 1947. Overcoming the national political
climate during World War II, Wat was a star player for the University of Utah 1944 and 1947 championship teams, taking 2 years off in between to serve in the U.S. Army. His perseverance and loyalty to his teammates, other Nisei friends (including those interned at Topaz) and his family are a testament to the unflappable Japanese American spirit.
Pizza dinner will be served. Free & open to the public.
Parking available. From North Ave., turn north on Hudson Ave. to temple.
Please RSVP to chicago@jacl.org or 773-728-7171.
Click here to download the flyer.
Chicago Chapter of the Japanese American Citizens League
5415 N. Clark Street
Chicago, IL 60640
(773) 728-7171
chicago@jacl.org

intrepidmouse . Last modified Sep 24, 2010 3:04 p.m.
---