PLAY: Crimes of the Heart at East West Players
East West Players
120 Judge John Aiso St
Los Angeles, California, 90012
United States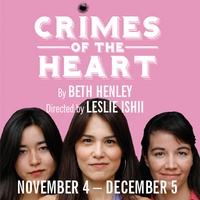 CRIMES OF THE HEART
by Beth Henley
Directed by Leslie Ishii
Meet three delightfully dysfunctional sisters: Babe has just shot her husband, Meg is fresh from the loony bin, and Lenny celebrates her birthday alone by sticking a candle in a cookie. This Southern Pulitzer Prize-winning classic with an Asian-American cast will be an unforgettable night of laughter and tears in East West Players style.
Cast: Maya Erskine, Kimiko Gelman, Elizabeth Liang, Hiwa Bourne, Tim Chiou, and Jason Sino (with understudies Rachel Lee and Erwin Tuazon).
Set Designer: Shigeru Yaji
Lighting Designer: Lonnie Rafael Alcaraz
Costume Designer: Garry Lennon
Composer: Peter Erskine
Property Master: Ken Takemoto
Stage Manager: Daniel Reaño-Koven
For showtimes and ticket prices, visit the East West Players' Web site at http://www.eastwestplayers.org/

Kagemusha . Last modified Nov 06, 2010 8:05 p.m.
---