Two concert dates: Concert I: For The Common Man with Guest Artist(s) Tai Murray, Violin | JASC Tsukasa Taiko Drummers lead by Tatsu Aoki
Oct 3rd at the Dominican University and Oct 4th at the Symphony Center
7900 W Division
220 S Michigan
River Forest and Chicago , Illinois
United States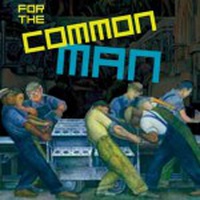 Maestro Paul Freeman and guest conductor Harvey Felder, Music Director of the Tacoma Symphony Orchestra, open the Chicago Sinfonietta's 2010-2011 season with a concert honoring the men and women builders of the world. This salute to labor will include Aaron Copland's Fanfare for the Common Man, a 1942 work that came about at the request of Eugene Goossens, then conductor of the Cincinnati Symphony Orchestra, in support of the American war effort of World War II. The program continues with Antonin Dvorak's memorable Slavonic Dances and Michal Daugherty's Fire and Blood, featuring Tai Murray on violin, a work inspired by Mexican muralist Diego Rivera's Detroit Industry frescos at the Detroit Institute of Arts. An original orchestral composition by Sinfonietta principal violist Renee Baker, Sundown's Promise (for Taiko and Orchestra) will feature the percussive flair of Japanese taiko drummers JASC Tsukasa Taiko, led by Tatsu Aoki. The concert will conclude with Leonard Bernstein's Symphonic Suite from On the Waterfront, a work composed for Elia Kazan's Academy Award-winning 1954 film.
COPLAND Fanfare for the Common Man
DVORAK Slavonic Dances, op.46, no. 4
DAUGHERTY Fire and Blood
BAKER Sundown's Promise (for Taiko and Orchestra)
BERNSTEIN Symphonic Suite from On the Waterfront
Conductor Paul Freeman
Guest Conductor Harvey Felder
Guest Artist(s) Tai Murray, Violin | JASC Tsukasa Taiko Drummers lead by Tatsu Aoki
http://jazzinchicago.org/jazzfest/
*Sunday, Oct 3 "Chicago Sinfonietta: For the Common Man"
Dominican University 2:30 pm
http://www.chicagosinfonietta.org/events/?event_id=10
Sunday Oct 3 at 2:30pm
Dominican University
buy tickets ($26 - $40)
Dominican University
7900 W Division
River Forest
Google Map
Oct 4th performance:
Monday Oct 4 at 7:30pm
Symphony Center
buy tickets ($26 - $96)
Symphony Center
220 S Michigan Ave
Chicago
Google Map

intrepidmouse . Last modified Sep 09, 2010 8:48 a.m.
---