Book Signing: Angel Island: Immigrant Gateway to America by Erika Lee and Judy Yung
Japanese American National Museum
100 N Central Ave
Los Angeles, California, 90012
United States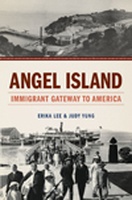 From 1910 to 1940, over half a million people sailed through the Golden Gate, hoping to start a new life in America. But they did not all disembark in San Francisco; instead, most were ferried across the bay to the Angel Island Immigration Station. For many, this was the real gateway to the United States. For others, it was a prison and their final destination, before being sent home.
In Angel Island: Immigrant Gateway to America, historians Erika Lee and Judy Yung provide the first comprehensive history of the Angel Island Immigration Station. Drawing on extensive new research, including immigration records, oral histories, and inscriptions on the barrack walls, the authors produce a sweeping yet intensely personal history of Chinese "paper sons," Japanese picture brides, Korean students, South Asian political activists, Russian and Jewish refugees, Mexican families, Filipino repatriates, and many others from around the world.
There will be a book signing after the program. Reservations recommended to rsvp@janm.org or 213.625.0414 at least 48 hours prior.

JANM . Last modified Sep 08, 2010 11:04 p.m.
---