AUCTION: A Honda Fury Motorcycle, Hand-Painted & Signed by Linkin Park's Mike Shinoda!
California
United States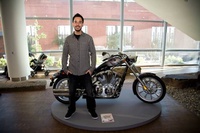 CLOSE October 28, 2010 at 12:42 PM EDT
Take home this amazing customized Honda Fury motorcycle, handpainted and signed by Linkin Park vocalist, Mike Shinoda!
Aside from his musical talents as the rapper, songwriter, keyboardist, vocalist and rhythm guitarist, Mike Shinoda is incredibly gifted as an artist and painter. He has had a hand in most artistic facets of Linkin Park's imagery, including album artwork, band merchandise, and on-stage production art.
The Honda Fury is the most distinctive custom Honda has ever created. Long, lean and mean, stretching nearly six feet from axle to axle, this machine literally screams with chopper style. And once you've saddled up and fired that big 1312cc V-twin, you'll know you've experienced a motorcycle like none other.
Proceeds from this item will benefit the Japanese American National Museum and Music for Relief.
For more information about the bike and the auction >> http://www.charitybuzz.com/catalog_items/2177121?preview=1

JANM . Last modified Oct 21, 2010 6:06 p.m.
---