Poetry Reading and Slides of Art Quilts: What Remains: Japanese Americans in Internment Camps
Japanese American National Museum
100 N Central Ave
Los Angeles, California, 90012
United States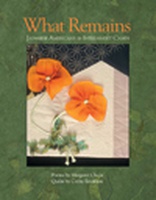 Margaret Chula and Cathy Erickson make the concentration camp experience come alive in their seven-year collaborative project joining poetry and quilts. Margaret's original poems, diaries, and letters in the voices of people in the camps describe the hardships and emotions they experienced. Cathy has transformed personal stories into quilts through fabric, design, and color. Their presentation shows how two art forms can enhance and enrich each other.
The artists will also talk about the inspirations for their work, including interviews with Japanese Americans, photographs from the collections of Dorothea Lange and Ansel Adams, autobiographies by internees, and pilgrimages to the camps.
There will be a book signing and light reception after the program.
About the Artists:
Margaret Chula, an internationally known haiku poet, lived in Kyoto Japan for 12 years where she taught creative writing at Doshisha Women's University. Her six collections of poetry include Grinding my ink, which received the Haiku Society of America's Book Award. Grants from Oregon Literary Arts and the Regional Arts & Culture Council have supported programs with artists, musicians, photographers and dancers.
Cathy Erickson has been making traditional and art style quilts since 1996. In 2002 she started collaborating with Margaret Chula on quilts and poetry inspired by the Japanese American internment. Cathy has exhibited in art galleries, university galleries, museums, and at local, regional, and national quilt shows.
For more information about Margaret Chula and to read poems from What Remains, visit www.margaretchula.com. For more information about Cathy Erickson or to see her quilts, visit www.cathyerickson.net/.
[Purchase a copy of What Remains: Japanese Americans in Internment Camps at the Museum Store Online]


Reservations recommended to rsvp@janm.org or 213.625.0414 at least 48 hours prior.

JANM . Last modified Sep 08, 2010 7:42 a.m.
---