10th Annual Midori Kai Boutique and Craft Show
Mountain View Buddhist Temple
575 N. Shoreline Blvd
Mountain View, California, 94043
United States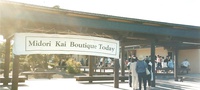 Enoy a full day of unique Asian American inspired arts and crafts at our 10th Anniversary Midori Kai Boutique hosted by the Midori Kai professional women's group. This year's boutique features over 70 talented vendors. There will be entertainment in the morning by the Ukulele Jams School from San Jose Japantown and Marimo Kai Koto group in the afternoon as well as food sales (spam musubi, bentos, etc).
Proceeds from this year's boutique will benefit the Japanese American Museum of San Jose, San Francisco Asian Women's Shelter, Yu Ai Kai Senior Center (Keiro Kai event) and the Ed Iwasaki Memorial Scholarship.
For more information, please contact boutique chiarpersons Phyllis Osaki (925) 596-1770 or Marsha Baird (510) 579-1518 or visit the Midori Kai web-site at www.midorikai.com

pamyoshida . Last modified May 16, 2011 12:29 p.m.
---