Wednesday Night at the Movies; The Cats of Mirikitani
At the NJAHS Peace Gallery
1684 Post Street
San Francisco, California, 94115-3604
United States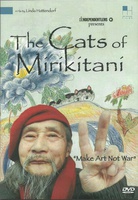 Film screenings about Japanese American wartime experience is on every Wednesday evenings. Furikake popcorn and green tea will be provided. Donation suggested.
The Cats of Mirikitani. Linda Hattendorf. An intimate exploration of the lingering wounds of war and the healing power of community and art, this film has won awards at some 20 festivals, including prizes at Tribeca, Tokyo, Quito, Bologna, Durban, Galway, Seoul and Lyon (2006, 74 minutes).

njahsdev . Last modified Jul 09, 2010 12:14 p.m.
---