Wednesday Night at the Movies; Old Man River
At the NJAHS Peace Gallery
1684,Post Street
San Francisco , California, 94115-3604
United States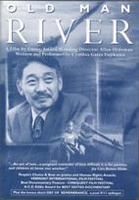 Film screenings about Japanese American wartime experience is on every Wednesday evenings. Furikake popcorn and green tea will be provided. Donations suggested.
Old Man River. Cynthia Gates Fujikawa. This unusual portrait of a daughter trying to know her stoic father years after his death, combines writer/performer Cynthia Gates Fujikawa's acclaimed, multi-media, one woman stage performansce, with a stirring collage of moving and still images that mesh to reveal a kaleidoscopic portrait of hollywood charactor actor Jerry Fujikawa (Chinatown, M*A*S*H, Taxi). Jerry's career playing every imaginable Asian stereotype seemed anything but glamorous and always predictable to his daughter. But when Ms. Fujikawa stumbles upon a mysterious secret her father would take to his grave, she embarks upon a journey that brings her face to face with American racism, specifically the internment of Japanese Ameircans during World War II, and eventually leads her to a sister she never knew existed. Old Man River brings to life an astoundingly tragic and complex American family history, while connecting this personal story to larger political and social issues (1998, 73 minutes).

njahsdev . Last modified Jul 09, 2010 12:14 p.m.
---