Play Reading at East West Players
East West Players
120 Judge John Aiso Street
Los Angeles, California, 90012
United States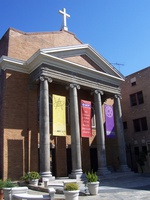 Come enjoy a staged reading of Wrinkles, the latest comedy from Japanese-American playwright Paul Kikuchi. SEE IT FIRST before it's produced on the main stage in the upcoming 2010-2011 season at East West Players.
(Paul Kikuchi's hit play, Ixnay, received its world premiere at East West Players in 2009.)
WRINKLES
by Paul Kikuchi
Directed by Jeff Liu
Performed by Marilyn Tokuda, Tohoru Masamune, Julia Cho, and Scott Shima

Synopsis: Unbeknownst to his daughter and grandson, 73-year-old Nisei Harry Fukutani is an Internet sensation! But to view his work, one has to turn off the parental filter and have a valid credit card. A sticky comedy about sex, lies, and Tiger Balm.
Admission: $5 suggested donation
Wrinkles is presented as part of the "Spring 2010 Reading Series" of the DHHWI New Works Festival, courtesy of East West Players and The David Henry Hwang Writers Institute. It is one of thirteen works-in-progress. Paul Kikuchi is a member of the "Writing is Rewriting" Workshop, which is led by Prince Gomolvilas. The David Henry Hwang Writers Institute is supported in part by The James Irvine Foundation.

Kagemusha . Last modified Jul 09, 2010 12:14 p.m.
---