Wednesday Night at the Movies; Citizen Tanouye
NJAHS Peace Gallery ( National Japanese American Historical Society) in Japan Town
1684 Post Street
San Francisco, California, 94115-3604
United States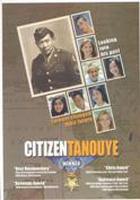 Film screenings about Japanese American wartime experience is on every Wednesday evenings. Furikake popcorn and green tea will be provided. Donations suggested.
Citizen Tanouye. Robert Horsting and Craig Yahata. Winner of both the prestigious 2005 "Chris Award" (High School & College Category) and the 2006 "Accolade"-Award of Excellence-Documentary. While serving as a member of the renowned 442nd Regimental Combat Team, Tanouye's family was incarcerated in "Relocation Camps"at Jerome and later Rohwer AR. Ted's action in battle would eventually earn him the Medal of Honor (2005, 59 minutes).

njahsdev . Last modified Nov 06, 2010 1:27 a.m.
---