Nine Lives 3 Concert & Deems Tsutakawa CD Release Party
Seattle Buddhist Church
1427 S Main Street
Seattle, Washington, 98144-2034
United States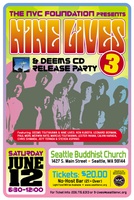 Deems Tsutakawa and the NVC Foundation will host a fundraising event for the Japanese American Memorial Wall featuring the Nine Lives Band. This benefit concert, Nine Lives 3 , will be combined with a CD Release Party for Deems latest recording, On Irving Street .

Nine Lives , originally formed in 1970, feature a strong horns section and guitar whiz Leonard Berman, and play a mix of funk, soul and pop music by bands such as WAR, Chicago, Santana, Ballin'jack, Rare Earth, Buddy Miles, New Birth, Bread, The Five Stairsteps and Tower of Power . Nine Lives became very popular playing gigs at local clubs, high schools, colleges, churches and local community events. Members include: Ken Kubota, Leonard Berman, Paul Mori, Merwin Kato, Marcus Tsutakawa, Lester Iwana, Calvin Harada, Chris Shimada, Jeff Terada, Alan Kato and Steven Aspiras.
J-Town Records announces the release of a new epoch-making CD recording On Irving Street by Deems & The Irving St Band. "On Irving Street is a finely executed prime example of the post modern state of the music recording art. It is exquisitely played."
For Ticket Information, call 206-715-6313 or e-mail 9-lives@seattlenvc.org



KevinKiuchi . Last modified Jul 09, 2010 12:14 p.m.
---