San Jose Taiko in Concert - Cedar Falls, IA
Gallagher Bluedorn Performing Arts Center
8201 Dakota Street
Cedar Falls, Iowa, 50614-0801
United States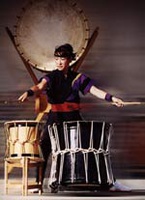 San Jose Taiko Drummers
Friday, April 16, 7 p.m.
A BUCK A KID!
San Jose Taiko has mesmerized audiences for three decades with the powerful and propulsive sounds of the taiko drum. Inspired by traditional Japanese drumming, San Jose Taiko performers express the beauty and harmony of the human spirit though the voice of taiko.
"By playing Japanese-American music we honor our cultural roots. We draw from a traditional source, yet still express ourselves as Americans. By sharing our music we take pride in our heritage, and hope to encourage others to have pride in their own cultural backgrounds. "
http://www.gbpac.com/season/artist/san_jose.shtml
1-877-549-SHOW (7469)

San_Jose_Taiko . Last modified Jul 09, 2010 12:14 p.m.
---