Michiko Itatani's Art
Walsh Gallery
118 N. Peoria Street, 2nd Floor
Chicago, Illinois
United States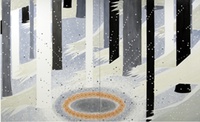 Michiko Itatani, an artist and professor at the School of the Art Institute of Chicago, is currently exhibiting several beautiful, huge, and strikingly-colored paintings at Chicago's Walsh Gallery. Catch the show now, in its last weeks!
Date
Daily through April 17
Place
Walsh Gallery
118 N. Peoria Street, 2nd Floor
Chicago, IL 60607 (Map)
Info
Michiko Itatani at Walsh Gallery

intrepidmouse . Last modified Jul 09, 2010 12:14 p.m.
---