Kip Fulbeck at the University of ILL. Chicago
University of Illinois Student Center East - Illinois Room
750 S. Halsted
Chicago, Illinois
United States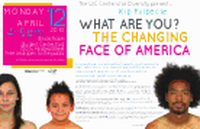 The UIC Centers for Diversity presents
WHAT ARE YOU? THE CHANGING FACE OF AMERICA
Renowned artist Kip Fulbeck explores issues of mixed race identity in this
multimedia presentation on icons of race and sex in the United States, a
country that ignores multiraciality. Using his own multiracial background as
a springboard for his multimedia presentation, Fulbeck confronts icons of
race and sex in the U.S., inspiring audiences to explore how our own ethnic
stereotypes and opinions on cultural identity are formed, leading one to
honestly consider, Who Am I?
Date: April 12, Monday
Location: Illinois Room, SCE
Time: 4-6pm
Reception and Book Signing to follow
Free and open to the public
For more information, contact Karen Su 312.413.7696 or karensu@uic.edu.
If you have a disability and need an accommodation to attend the event,
please call 312-413-9569.
Co-sponsors: Asian American Studies, Honors College, Chicago Japanese
American Historical Society, Office of Diversity, Office of the Vice Provost
for Undergraduate Affairs
The UIC Centers for Diversity are: African-American Cultural Center, Asian
American Resource and Cultural Center, Gender and Sexuality Center, Latino
Cultural Center, and Women's Leadership and Resource Center
~~~~~~~~~~~~~~~~~~~~~~~~~~~~~~~~~~~~~~~~~~~~~~~~~~~
This UIC event is in conjunction with
an exhibition at The Field Museum:
kip fulbeck: part asian, 100% hapa | April 2 - September 6, 2010

intrepidmouse . Last modified Jul 09, 2010 12:14 p.m.
---