San Jose Taiko in Concert - Des Moines, IA
Civic Center of Greater Des Moines
221 Walnut Street
Des Moines, Iowa, 50309
United States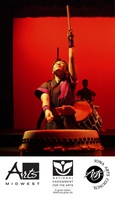 Sunday, April 11, 2010 @ 6:30-8:30PM
Civic Center of Greater Des Moines
Civic Center of Greater Des Moines - 221 Walnut Street Des Moines, IA
phone :: 515-246-2300
http://www.civiccenter.org/events/san_jose_taiko_208.php
San Jose Taiko has mesmerized audiences for three decades with the powerful and propulsive sounds of the taiko drum. Inspired by traditional Japanese drumming, San Jose Taiko performers express the beauty and harmony of the human spirit though the voice of taiko.
This presentation is supported by the Performing Arts Fund, a program of Arts Midwest funded by the National Endowment for the Arts, which believes that a great nation deserves great art, with additional contributions from the Iowa Arts Council, General Mills Foundation, and Land O'Lakes Foundation.
Sunday, April 11, 2010
6:30 PM
$30.00 SECTION A
$20.00 SECTION B
$15.00 SECTION C

San_Jose_Taiko . Last modified Jul 09, 2010 12:14 p.m.
---