On the Road Back to Poston
Poston, Arizona
United States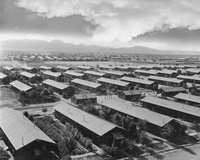 All day educational tour trip leaving from the Golden Nugget-Las Vegas to Poston, Arizona. Documentary videos shown while traveling through the desert. Includes visit to the Poston Memorial Monument, Poston Restoration Project site which includes 14 original building structures remaining.
Donations to "Poston Restoration Project"
Join our group on Facebook!

kueyd . Last modified Jul 09, 2010 12:14 p.m.
---