No No Boy
Miles Memorial Playhouse
1130 Lincoln Blvd, (just north of Wilshire)
Santa Monica, California, 90403
United States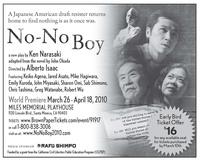 Timescape Arts Group presents the world premiere of a new play based on NO-NO BOY, the novel that has inspired a generation of Asian Americans, at the Miles Memorial Playhouse, 1130 Lincoln Blvd., Santa Monica, CA 90403.  The play opens on March 27th at 8pm; it runs Friday and Saturday nights at 8pm, with Saturday and Sunday matinees at 3pm; it must close on April 18.
Playwright Ken Narasaki (The Mikado Project, Innocent When You Dream, Ghosts and Baggage) has teamed with director Alberto Isaac (ART, THE MAIDS, YANKEE DAWG YOU DIE), who has assembled a cast of some the best-known Asian American actors in Los Angeles, to create this stage adaptation of NO-NO BOY, a searing story set in Seattle in 1946 exploring the kaleidoscope of emotions experienced by Japanese Americans returning to the West Coast from internment camps, from war, and for the title character, prison.
Tickets are $25 for general admission; discounts are available for students, seniors, groups of ten or more, and tickets purchased before March 10.
For more information, please go to:  www.nonoboy2010.com  


narasaki9 . Last modified Jan 12, 2023 3:38 p.m.
---