Father & Son work by Michael & David Tanimura
Formato Art Source
Coach building behind 5224 N. Clark Street
CHICAGO, Illinois
United States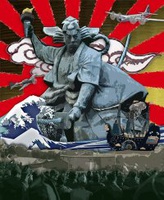 Father & Son work by Michael & David Tanimura
Like many a father and son, Michael and David Tanimura each see the world in his own way.
Michael has been doing photography for over 40 years, and just recently made the switch from silver-based to digital. On view will be his current tri-color exploration of time within a given space.
David made his first exposures strapped into his baby-seat in the back of the car sometime around the age of 2. Since then he's explored various techniques, and is currently taking a look into the dark world of Occupied Japan in his series "Occupied: the Art of War."
Reception Friday, March 19, 2010, 7-10 p.m.
Show continues Saturday, March 20, 11 a.m.-4 p.m.
Sunday, March 21, 11 a.m.-3 p.m.
Presented by Miguel Mendez, Formato Art Source
Coach building behind 5224 N. Clark Street - rear, Chicago
Enter from the alley between
Clark and Ashland at Foster Avenue
Street parking • convenient to the Clark Street bus

intrepidmouse . Last modified Jul 09, 2010 12:14 p.m.
---