GstaadFilm Featuring a film by Masahiro Sugano
GstaadFilm

Postfach 420
CH-3780 Gstaad

Gstaad, Bern
Switzerland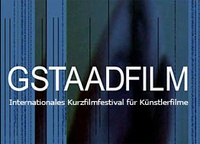 GstaadFilm: International Short Film Festival for Artist Films
12th and 13th March 2010
For the fourth edition of GstaadFilm, 150 films of 23 countries were submitted.
The jury has selected 21 of them and put together an interesting international program.
The following five films have been nominated for the «Golden Cow of Gstaad»:
Eulogy, Ben Claremont, Australia
Prediger, Jochen Kuhn, Germany
Human beings, Mashaallah Mohammadi, Iran
Yellow exercise, Shelly Nashadi, GB
Yarning for love, Masahiro Sugano, USA

"Yarning for Love"
Download Festival-Programm 2010
The program will be shown on Friday and Saturday in the Cine Theatre Gstaad.
The artists will have the possibility to present their work to the public in person.

intrepidmouse . Last modified Jul 09, 2010 12:14 p.m.
---