Nikkei Youth Cultural Heritage Program (NYCHP): Open Call for Applications
Japanese American Cultural & Community Center
244 S. San Pedro Street
Los Angeles, California, 90012
United States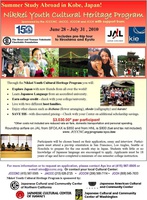 The Japanese American Cultural and Community Center (JACCC) is currently seeking applicants for the 2010 Nikkei Youth Cultural Heritage Program (NYCHP) , a study-abroad program in which participants travel to the Kansai region of Japan in order to gain a better understanding of their cultural heritage and discover Japan in a unique and exciting way.

For this program, the JACCC is collaborating with the Japanese Cultural and Community Center of Northern California (JCCCNC), the Japanese Cultural and Community Center of Washington, and the Japanese Cultural Center of Hawaii to offer up to five participants from each Cultural Center an opportunity to participate in this educational and cultural experience.

For more information, please contact David Wells at (213) 628-2725, x106 or dwells@jaccc.org .

JACCC . Last modified Jul 09, 2010 12:14 p.m.
---